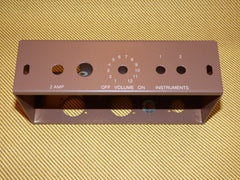 5F1 Tweed Champ Chassis, '63 Brown Powder Coat, Satin Finish
BACK IN STOCK !
5F1 TWEED  CHAMP CHASSIS,  USA MADE!
16 GAUGE COLD ROLLED STEEL CONSTRUCTION, ZINC PLATED, AND POWDER COATED
'63 BROWN POWDER COATED SATIN FINISH

WITH WHITE SCREEN PRINT LETTERING (satin finishes have a very slight texture to them)

CNC LASER CUT,  CLEAN LINES, NO BURRS
1 3/16" OCTAL HOLES FIT BELTON SOCKETS PERFECTLY (1 1/2" hole centers also fit ceramic sockets)
3/4" PREAMP SOCKET HOLE, ( 1 1/8" hole centers) 
VINTAGE DIMENSIONS   

 2 ⅝" (H) x 8 ¾" (W) x 4 ⅛" (D)

 MADE TO FIT STANDARD USA SIZED PILOT LIGHTS, FUSE HOLDER, JACKS AND POTS  
GROUNDING POINTS FOR POTS, JACKS, AND CIRCUIT GROUNDS ARE BARE ZINC (you won't have to grind off any powder coat)
MADE IN USA!!