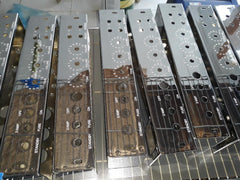 5E3 CHASSIS FOR FENDER TWEED DELUXE, CHROME MADE IN USA
BACK IN STOCK!  LIMITED QUANTITIES ON HAND.
100% MADE IN USA !
5E3 TWEED DELUXE CHASSIS 
CHROME PLATED,  TRIPLE PLATE PROCESS (copper/nickel/chrome)
WHITE SCREEN PRINT
16 GAUGE  STEEL CONSTRUCTION
ALL 4 CORNERS ARE SPOT WELDED!  (2 welds on each flange, total of 8 welds)
CNC LASER CUT,  CLEAN LINES, NO BURRS
1 3/16" OCTAL HOLES FIT BELTON SOCKETS PERFECTLY (1 1/2" hole centers also fit ceramic sockets)
3/4" PREAMP SOCKET HOLE, ( 1 1/8" hole centers)  
VINTAGE DIMENSIONS   

2 ⅝" (H) x 14 ½" (W) x 4 ⅛" (D)

KEYWAYS FOR BOTH POWER AND STANDBY SWITCHES
MADE TO FIT STANDARD USA SIZED PILOT LIGHTS, FUSE HOLDER, JACKS AND POTS
MADE IN USA!!  
PLEASE NOTE;   MY CHROME SHOP WENT WAY OVERBOARD ON THE CHROME ON THIS BATCH.    TOP,  BOTTOM AND SIDED HAVE BEEN CHROMED  (way too much in my opinion,  as i like strict vintage style ! )   WAY BETTER CHROME FINISH THAN ANYTHING YOU'LL FIND ON THE MARKET.   THEY COST ME MUCH MORE THAN USUAL....WHEN THEY ARE GONE...THERE WILL BE NO MORE LIKE THIS !
Related Products