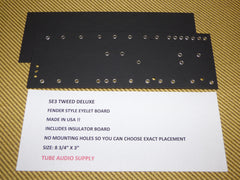 5E3 FENDER TWEED DELUXE EYELET fiberboard, Tube Amp DIY MADE IN USA
EYELET FIBERBOARD for 5E3 Fender Tweed DELUXE clone amps. 
MADE IN USA ! 

.062 BLACK Fiberboard has great dielectric strength 

Tin plated brass eyelets,  easy soldering

DIE punched holes

Classic 5E3 layout pattern  

NO mounting holes are drilled to allow exact placement ( easily drilled with standard drill bits )

Board measures 8 3/4" long by 3" wide.

INSULATOR BOARD IS INCLUDED !
Related Products